QUIET.

PEACEFUL.

SPACIOUS.

CLEAN.

NATURAL.
If you've been seeking the perfect central location to tour Prince Edward Island…look no further.
Cymbria Campground offers the best of both worlds- tucked away in a quiet, beautiful rural setting, yet only minutes away from everything awesome PEI has to offer. Whether you're looking for National Park beaches in Cavendish or Brackley, the capital City of Charlottetown, restaurants, golf, or so many other attractions, we've got you covered.
Fatigués de l'éternelle expérience de camping habituelle?  Si vous aimez sortir des sentiers battus, alors vous ne voudrez pas passer à côté de la magie du camping Cymbria. 
Le propriétaire et exploitant travaille à créer une ambiance détendue et ouverte d'esprit. Relaxez avec des insulaires dans un vrai coin rural de l'Île-du-Prince-Édouard, à seulement quelques minutes de Cavendish et Brackley (Parcs Nationaux) et Charlottetown et voisin d'un terrain de golf.
We are a quiet family & couples' campground that caters to mature, respectful, nature-loving people.
Cymbria is an old-fashioned campground in a natural setting with many modern conveniences. Our campsites are extra large and unique. There's no need to go far if you don't want to.
Whether you're touring the Island or staying close to camp, you'll quickly realize that Cymbria is surrounded by all the things you could ever want to see and do in PEI.
We offer off-season rates, weekly discounts, and often have specials. We take reservations year- round. Start here to make plans for your next vacation.
We felt like we 'melted' into the Island. We fell asleep every night listening to leaves rustling overhead in the breeze, and to the songs of a thousand crickets. In the background the dull roar of surf and smell of fresh salt air mixed with campfire smoke reminds us even to this day that Cymbria is a truly magical place.
Explore Cymbria Campground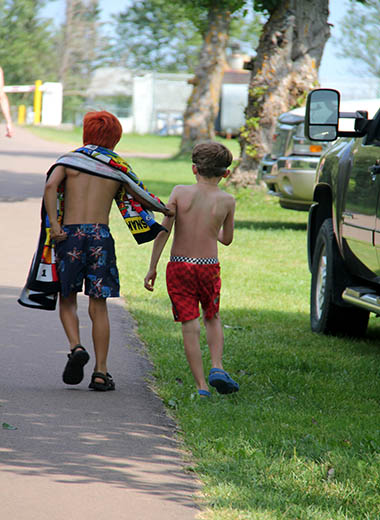 Not only do we have some of the largest RV sites on the Island, but you're also sure to find a 2-way or unique tent site that will make you feel at home. There is lots to do here, including our heated pool, nature trail, shallow Bay beach access, camp store, rec room, laundromat, games, and more.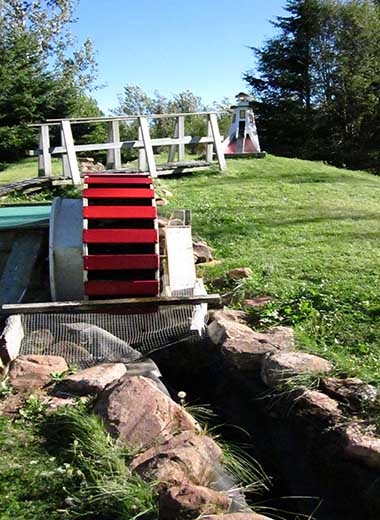 Check out our old-fashioned 18 hole par 49 mini-putt course, located on-site. It is fun, affordable, and challenging for people of any age or skill level. A discount is available to our campers, and can sometimes be had for free by checking out our specials.                                                        
This is where you'll find our video and pictures section. We would love to include your pictures or videos too…just send them our way and we'll get them posted!