Welcome to Prince Edward Island!
Cymbria Campground is in the heart of everything that makes PEI so special. A perfect central location for touring the Island, camp with us and you're never far away from all there is to do and see on PEI.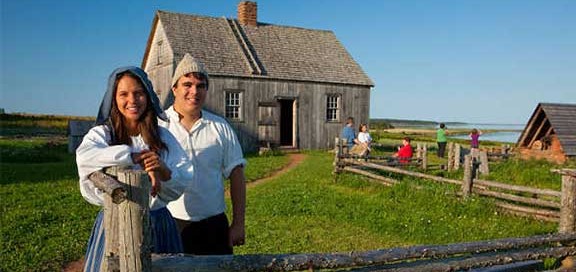 Rustico Bay

Shallow on-site private beach perfect for taking in the beautiful scenery and sunsets, long walks, clam-digging, bird watching, and beach combing. Or bring your own canoe, kayak, wind surfer, or kite board.

Nature Trail

Cymbria Campground has its own nature trail!

Drive-U-Krazy Mini Golf

Located at Cymbria Campground, this old-fashioned 18 hole mini-golf course has its own pond, motorized models, and is surprisingly fun and challenging for the whole family.

Rustico Resort Golf and Country Club

Located within walking distance (1 km) of the campground, this 18 hole, par 72 golf course has water views from every hole. It is very reasonably priced.

Gallant's Country Store

This awesome old-time store (since 1927) is a country food market, butcher shop, and gas station. Don't forget to check out Karen Gallant's Studio Gallery while you are there!

Oyster Bed Raceway

Local Oval Track, with regular scheduled events

Artisan Shops, gifts and souvenirs, dining

All close by

Ceilidhs, cultural, and other musical events

Don't miss it

Acadian Heritage

Take a tour of St. Augustine's- one of the oldest (~1838) Roman Catholic Churches on PEI; The Farmer's Bank of Rustico (National Historic Site) and the Doucet House- quite possibly the oldest house in PEI.

Rendez-vous Rustico

A yearly bi-lingual festival in late-July that celebrates the Acadian culture and way of life. Includes concerts, meals, bingo, duathlon, a kid zone and more.
Within 10 Minutes or Less
World Famous Lobster Suppers

There's 2 choices to pick from: New Glasgow Lobster Suppers & Fisherman's Warf Lobster Suppers

Beautiful (free) white-sand beaches

Including the entrance to the National Park Beaches (paid)

New Glasgow

Glasgow Glen Farm Cheeses, Butterfly House, Gardens, PEI Preserve Co., Toy Factory, Olde Glasgow Mill Restaurant, Glasgow Hills Golf Club

North Rustico

The place to be for Canada Day Celebrations, with boat parades and fireworks! This picturesque fishing village has a walking trail, restaurants, seafood market, groceries, propane, hardware store, liquor store, bank, bowling, bingo, crafts, theatre, and so much more!

Deep Sea Fishing

Try your luck on a fishing boat with one of the many colorful captains in the area.

Outside Expeditions

Take a guided kayaking tour, paddleboard and canoe rentals, and bike rentals & cycling tours
Within 15 Minutes or Less
Cavendish Beach

PEI National Park. Known for the jagged dark-red sandstone cliffs, beautiful scenery, wildlife, and white sand beaches at either end.

Brackley Beach

PEI National Park. Miles of white sand beach and dunes. Bring your bicycle, or explore several hiking trails. Stop by Covehead Warf, and don't miss Dalvay By The Sea.

Green Gables House

Cavendish Heritage Place (Anne)

Cavendish

PEI's most popular tourist destination each summer...not just because of Anne Of Green Gables. Cavendish offers golf, shopping, bars & restaurants, nature trails, concert events, and amusement parks.

Brackley Drive In

Old-fashioned outdoor movie theater from the comfort of your own vehicle

Hunter River

In addition to fuel and numerous shops and a theatre, you'll find the closest entrance to the Confederation Trail, for hiking or biking the transformed railway line that runs through PEI

Veterinary Clinic

Never worry about your pets
Charlottetown

(20+ min) The capital city of PEI, population ~35,000, and "Birthplace of Confederation". Charlottetown offers all services and amenities. Our largest hospital is 25 minutes from the campground. We couldn't possibly start to list all there is to do and see in this beautiful city.

Confederation Bridge

(45 min) The longest bridge in the world crossing ice-covered water. Whatever you do...don't look down. Just kidding teehee

Summerside

(45 min) PEI's second largest city, home of Canada's oldest harness racing track, the College of Piping, and everything you'd expect in a small city (and more).

Northumberland Ferries

(70 min) Wood Islands to Caribou NS Ferry. A unique experience, and until the bridge in 1997, the only way on wheels to and from the Island

Tip to Tip

It takes about 1 hour and 45 min to take the shortest route to either the Wind Turbines in North Cape (farthest West) or to the East Point Lighthouse (farthest East). You can count on either trip to turn into a full day of travelling.